Custom Fine Art Posters

Now available 4 stunning high quality custom fine art posters printed using the same exacting standards as the archival photographs using archival pigments on a smooth satin finish poster paper that will reveal all the stunning detail and color of Organic Light.

Posters come in sizes of 18 x 24 inches or 20 x 24 inches depending on the image. Larger sizes may become avaialable at a later date. Additional images may become available at a later date as well, but any image from the Organc Light Image Galleries can be chosen as a custom poster at an additional fee. Contact Us for information on custom images.

Organic Light Photography Poster Offerings:

Retail Purchase: For individuals and small orders of multiple posters. Each poster is only $25.00 in US dollars plus sales tax if shipped to a California address.

Wholesale Purchase: For established retail businesses with a valid resale license for larger orders. The minimum discount is 30% off of the Retail price for quantities as few as 15 posters. Currently accepting orders for immediate delivery.

To Order:

Simply fill out the order form below. For individual orders, your poster will be sent out once payment is received rolled and shipped in a sturdy cardboard mailing tube, and for Wholesale and Custom orders, you will be contacted shortly to make the final arrangements for delivery.


After The Rain

A beautiful 18 x 24 inch poster of the number one best selling Organic Light Photo of the unprecedented wildflower bloom of the Gorman Hills in 2003.






Another Time

A beautiful 18 x 24 inch poster of the remarkable view of Yosemite Valley at sunrise. Here is your chance to have a copy of this famous photograph, a copy of which hangs in the Vatican in Italy.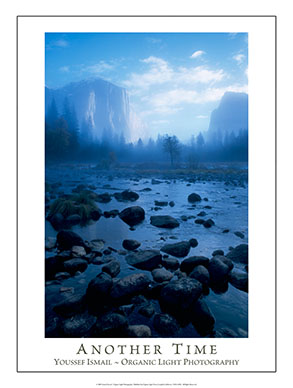 Autumn Meadow

A beautiful 20 x 24 inch poster of the autumn colors of Yosemite Valley after an intense series of rain storms passed through the park. With intense saturated colors and a variety of trees draped in their autumn regalia, this photo is quickly climbing in popularity.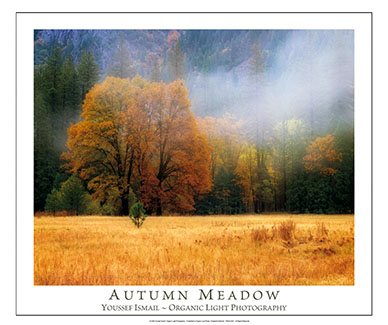 Last Light

A beautiful 18 x 24 inch poster of sunset at Pescadero Beach along the Northern California coast as the remnants of the last of the winter storms makes landfall. Rarely ever in stock at shows as it sells out as soon as this photo is available.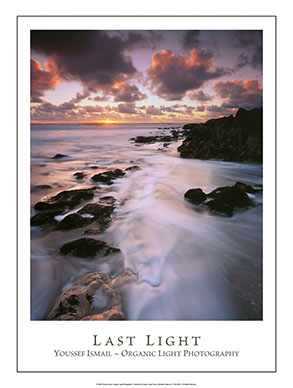 No More Words

A beautiful 20 x 24 inch poster of a Black Oak in Yosemite Valley with El Capitan as a backdrop on a subtle, rainy and overcast day. Captured in the last moments of daylight and it speaks volumes.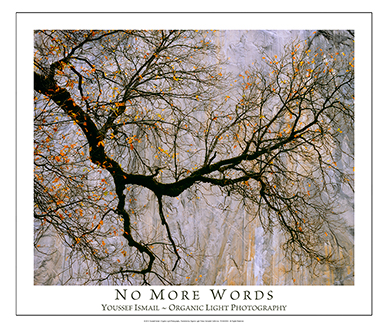 Death's Hand

A beautiful 18 x 24 inch poster of desert sage and buckwheat on a cold and frosty morning in early autumn among the vast Eastern Sierra landscape depiciting the sense of what the hand of death might feel like bringing an heightened apppreciation for life.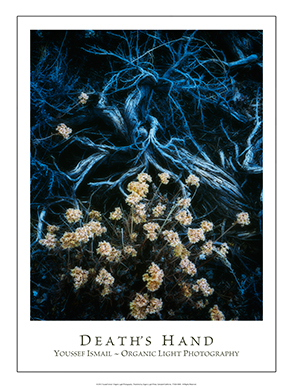 Standing Firm

A beautiful 18 x 24 inch poster of a small tree along Cascade Creek in the Sierra Nevada Mountains standing firm in the deluge of the spring thaw imparting to us what it takes to remain resolute in the face of overwhelming tribulation.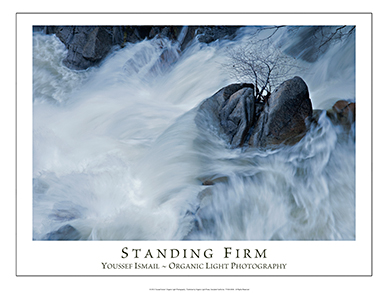 The View

A beautiful 12 x 28 inch poster of the Range Of Light from atop Sentinel Dome after an early autumn snow storm after sunset exhibiting the famous Alpine Glow.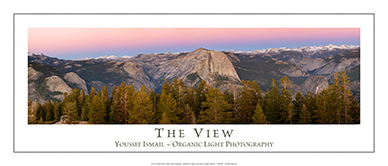 About | Gallery | Services | Techniques | Essays | Exhibits | Press | News | Links | Blog | Contact | Site Map




Copyright 2002 - 2022 Youssef M. Ismail / Organic Light Photography, all rights reserved. All photographs and essays are copyrighted to Youssef M. Ismail / Organic Light Photography, all rights reserved. No part of this site may be reproduced, stored, or transmitted in any form or by any means -- electronic, mechanical, photocopying, recording, or otherwise -- without the written permission of the copyright owner. To obtain said permission Contact Organic Light Photography


Web Hosting By 3Essentials